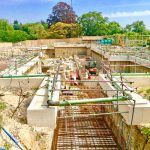 Case Study / Waterproofing 
Waterproofing a large basement with gym, pool and spa
MacLennan Waterproofing were approached by contractor WG Carter to provide a tailored solution for the design, supply and installation for waterproofing in this large new build basement.
The single storey basement covering a large area is to house a Gym, Pool, Spa, Massage room, Yoga room and showers. Due to the nature of the intended use for the basement it is vital that there would be no leaks.
---
A Grade 3 structure is suitable for a habitable environment (living and working). With this grade of waterproofing no water ingress or dampness is acceptable.  This system would satisfy the requirements of the NHBC, GPI, Premier Guarantee, BLP etc.
BS8102:2009 states that consideration should be given to the use of combined protection i.e., 2 forms of waterproofing.
Method
---
MacLennan's experienced waterproofing design team specified that the use of an internal crystalline coating to be applied to the surface of the reinforced concrete, followed by a ventilated cavity drain system installed from floor to ceiling as the primary system.
The system has a Hydrodrain channel installed around the wall floor join and wall mounted inspection ports. This ensures that the system can be fully serviceable. Sumps and pumps were also installed to carry away any future potential water ingress.
As the works were carried out during the winter months, the site provided a marquee style shelter over where the waterproofing works were being carried out. This ensured that the site stayed dry and that the MacLennan qualified technicians could complete the installations without disruption.
Result
---
MacLennan designed, supplied and installed the waterproofing system to the large newly excavated basement next to this existing property.
All works were completed within the time frame and budget. offering our insured products guarantee.