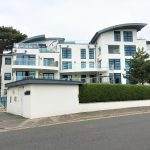 Case Study / Waterproofing 
Deck waterproofing where it had failed before
The Reef in comprises 56 spacious upmarket apartments arranged in a horseshoe design to maximise the sea view in Boscombe Spa, a suburb in Bournemouth. All homes have been built to have at least one balcony or terrace and have been constructed and finished to the highest quality using all the latest technology.
---
There is also underground private parking, however after the initial installation of waterproofing on the podium deck above it, it failed and there was unacceptable water ingress in the part of the building that was below the deck.
Local waterproofing experts MacLennan were approached by the NHBC (The UK's leading independent new home warranty and insurance provider) to investigate and offer our solution to the problem.
Method
---
Upon visiting site, MacLennan surveyors investigated the issue and offered the best waterproofing system we know of for waterproofing decks to protect the areas below from any water ingress. When waterproofing large areas like this 648m2 deck, one must take into account potential movement of the surface, therefore it's crucial that the system used is elastomeric but at the same time very robust.
After carefully preparing the deck surface area, MacLennan's Polyprufe waterproofing system was spray applied. This is an environmentally safe polyurea based system which requires minimum curing time and is very robust and elastomeric. MacLennan always check and double-check our waterproofing systems after the installation as we offer proper, full guarantees not only for the materials we use, but also the design and workmanship / installation.
On this occasion, after the installation NHBC wanted to conduct an additional waterproofing test to make sure there are no leaks because there was a problem with the deck before when waterproofing was installed by a different company. NHBC water tested the MacLennan system by pouring 200 000 litres of water and leaving it on the deck overnight (and it was raining!). The MacLennan Polyprufe waterproofing system was faultless and passed this vigorous test with ease.
Result
---
MacLennan waterproofed the podium deck so that no further leaks were discovered and completed the work on site within budget and the agreed time frame.
The Polyprufe system is guaranteed for 10 years. All of this was backed by MacLennan's full installation guarantee and PI cover on the design.