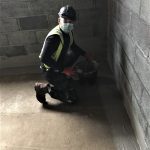 NEW LOCKDOWN – BUSINESS AS USUAL
Office Staff
MacLennan waterproofing specialists have returned to work only to find ourselves at the start of a new national lockdown. All our staff who are able to work from home have returned to remote working, you can reach us all during the usual hours. If necessary, our surveyors and designers will still be able to attend the site where their work cannot be done remotely.
Site Staff
All our key workers/technicians on site are complying with the rules and guidance from the Government which we take extremely seriously to keep ourselves, other key workers and our friends and families safe.
CPD's
Our CPD seminars on Structural Waterproofing Design and Installation have once again fully returned to live online sessions.
Thank You
We are doing our bit to keep at least some of the economy ticking over in these difficult times. Thank you to all our business partners and clients who are mindful and compliant.